Silicone Micro Droplet Therapy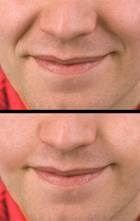 Silicone micro droplet therapy is prescribed in cases where a scar or wound has left behind holes, cavities, or the tissue in that area has been lost Scars can leave behind a deep furrow, groove or hollow like cavities. Micro injection of silicone can help fill out these cavities creating a more pleasing appearance. Liquid medical grade injectable silicone has been used safely for 30 years. It is non-allergenic and a skin test is not required prior to the procedure.
Procedure
Micro droplet liquid silicone injections are administered in very minute quantities of about 0.01 to 0.03mL. The silicone is injected deeply into the dermis part of the skin. This procedure is most commonly done on the face. A series of visits is required, initially at 1-month intervals. This allows time for new collagen to develop in response to previous injections. Benefits may not be obvious until after 3-6 visits depending on the site and/or defect to be improved.
This procedure is also done for lines that we usually see on our faces that run from the nose to the corners of the mouth (nasolabial folds) and also the ridge that we see in between the eyebrows, above the nose, called the glabella.
The advantages of this therapy includes no anesthesia is given. This is one of the most effective and safest ways to get rid of scars. This treatment include a follow-up period which can last for 10-, 15-, 20- years or so. Silicone has been approved as SILIKON 1000 (Alcon Laboratories) by the FDA for injection into the eye in selected cases of retinal detachment. The FDA has also approved liquid injectable silicone for many years as a lubricant for disposable syringes and needles. From this approved use alone, it is estimated that the average diabetic using disposable syringes injects his/her body with 3-5mlL of liquid silicone each year. Further, liquid silicone is also approved by the FDA for human ingestion in foodstuffs and as an ingredient in pharmaceuticals.
However, there are risks involved with this treatment. Rarely, the body may consider the silicone as a foreign body and can lead to an inflammatory reaction which can cause infections and granulomas and cause a tissue mass. Please consult with Dr. Resnik for more information on silicone micro droplet injection therapy and if it could be helpful for your situation.
Silicone Micro Droplet Therapy by Dr. Barry Resnik